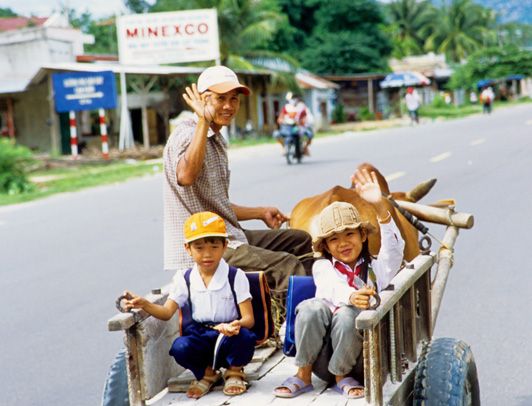 Moving from one place to another in Vietnam can be a challenge. This is true whether you are trying to cross a traffic-clogged street in Saigon or endeavoring to explore the whole country.
Many overseas visitors join a tour so they won't have to deal with this issue, but authentic travelers eschew rigid itineraries and going places en masse. Other folks fly from place to place, totally missing the scene on the ground. Then there are the hardy souls who opt to use public transport between cities and find themselves packed like sardines into worn out minibuses. "Uncomfortable" wouldn't even begin to describe this ride.
By Private Car Through Vietnam
The solution, my husband and I discovered, is to travel by private car through Vietnam – meaning hire a car with driver and guide - possibly through Ann's Tours in Saigon (only government officials call it Ho Chi Minh City). Before we arrived in Vietnam, I talked to and exchanged emails with Managing Director Tony Nong and felt I could trust him to move us about the country safely and comfortably. (tel. 84-8-833-4356)
Our experience couldn't have been better. Although not a huge company, what they lacked in size they made up for in the warmth of their service. His guides took us to the Mekong Delta for two days, then back to Saigon, up to Dalat, and over to Nha Trang. In the North, they coordinated our airport transfers and sightseeing in and around Hanoi and saw us safely onto the train to Sapa. Every vehicle was clean, air-conditioned and in good shape – plus, the drivers knew the locations of the best restrooms along each route.
This would have been quite enough, but Tony's guides offered a bonus I hadn't expected. They were all great company and more than happy to share their personal stories as we traveled from place to place.
Quoc was young, hip, knew almost nothing about "the American War," but gave us an insight into what's-happening-now. Thach had been an interpreter for the US Army and his stories made the 7-hour trip to Dalat fly by in a blink. With Thach, we talked about politics, history, the economy, farming, and why I didn't want to go to a dog meat restaurant.
Hein's parents were Viet Cong who helped orchestrate the Tet Offensive – that made for some interesting discussions. In fact, Hein was the inspiration for one of the stories that resulted from our trip. "Finding Peace in Vietnam" ran in Ranch & Coast magazine and is posted on my website 
Authentic Luxury Travel isn't just about traveling independently and sleeping on high-thread-count linens. It's about really delving into a destination and experiencing the culture. The drivers and guides from Ann Tours enabled us to do just that.
P. S.  More recently, I've learned about Vietnam Alive Travel and I think they are just as good or better than Ann Tours.
Category: Vietnam