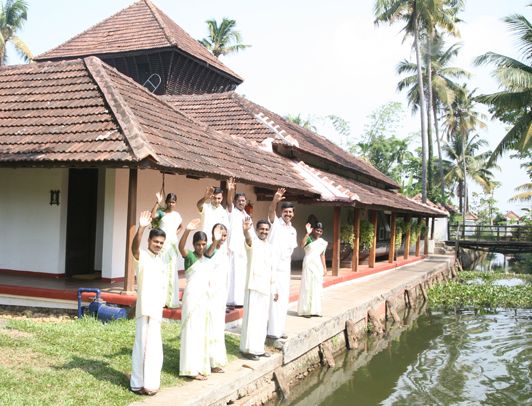 India presents a challenge to Authentic Luxury Travelers. The class distinction and financial status of the local population is so disparate that it's almost impossible to get to know "the man on the street" and have a sense of what it would be like to live in an Indian community.
The closest we came to experiencing an authentic village was in Kerala at Coconut Lagoon. Here, heritage bungalows, mansions, and pool villas are sited around quaint canals that crisscross the 17-acre property. The historic buildings, some dating back to the 1700s, were rescued from destruction and brought to this location from various sites in the surrounding countryside.
Coconut Lagoon is accessible only by boat and offers a peaceful retreat from the cacophony of urban India. Guests tour the region by small boats or luxurious houseboats that quietly cross Lake Vembanad and wander in and out of the backwaters where women do laundry along the banks and men propel their heavily laden canoes with punting poles.
The staff are very caring – of the environment and the guests, who are about half Indian and half overseas visitors. Eco-friendly efforts include a CO-2 plant, organically-grown rice, rainwater collection basins, solar panels for heating water, and a bio-gas digester.
Activities include swimming, cooking classes, yoga, meditation, kayaking, bird watching, touring the nature interpretive center and butterfly gardens, indulging in Ayuvedic spa treatments, and relaxing in hammocks hung between palm trees throughout the lush gardens.
I was pleased to learn that Coconut Lagoon does not accept groups, which might disrupt the serene atmosphere, and not surprised to find out that this very special place has hosted many celebrities, including Sir Paul McCartney.
I hope you won't experience Delhi Belly while you're in India, but if you do here's some sage advice.