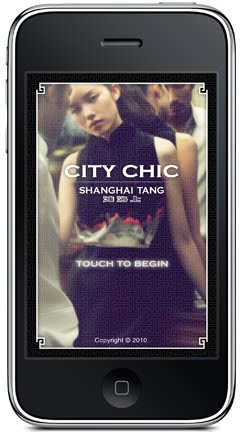 World Expo 2010 opened in Shanghai on May 1 and runs until October 31. If you're one of the 70 million expected visitors, you might want to know about the new travel resource from Shanghai Tang.
But first – I have to confess that I still think of Shanghai Tang as my favorite clothing store in Hong Kong, even though I know that this brand of luxury goods has become synonymous with modern Chinese chic. Boutiques in New York, Paris, London and elsewhere offer ready-to-wear collections, bespoke clothing, leather goods, jewelry and now – an avant garde phone application.
The Shanghai Tang "City Chic app" for iPhone and iTouch promises to guide users to 30 chic locations in contemporary Shanghai – and this might be important to Authentic Luxury Travelers.
The guide promises to provide "insider tips on the ever-changing metropolis's newest and chicest attractions. While the rest of the pack is hitting up The Bund and other tourist staples, users of the app will have access to in-the-know hotspots thanks to Shanghai Tang's team of coolhunters."
Some of the featured spots include the ultra-hip TMSK bar, the Velvet Lounge, Taikang Road, DR Bar (an American-designed martini bar in a former Communist Party meeting hall), Brown Sugar, Ding Tai Fung, the Whampoa Club, and Constellation Bar.
The New York Times says "Ding Tai Fung makes Shanghai's best xiao long bao, soupy pork nuggets that are Shanghai's signature snack. Also on its menu are basics like wonton soup, braised bamboo shoots and sweet-smoky fried fish."
The Whampoa Club offers traditional Chinese recipes and private tea rooms in their art deco inspired atmosphere. The Constellation Bar is an atmospheric Japanese cocktail bar famous for its expert bartenders, cigar and whiskey collection.
So go. Have fun. And say thanks to the coolhunters.

Category: China