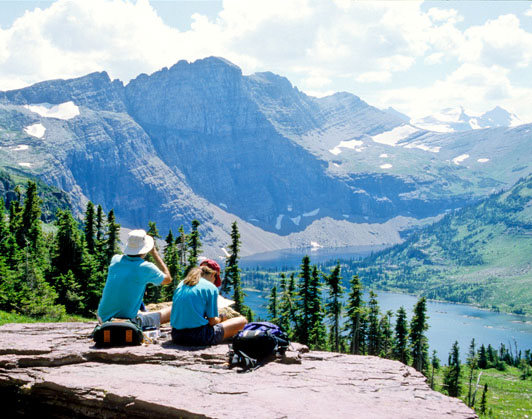 Located in northwest Montana, Glacier National Park is one of the most popular in the United States. More than 3 million travelers a year are drawn to the beautiful views of glaciers, mountains, and meadows full of wild flowers. They trek the trails, traverse the 52-mile Going-to-the-Sun Road, and breathe in the clean mountain air.
Sadly, the vast majority of visitors to Glacier National Park stay in one of the big park lodges. I might have done likewise, were it not for my innate dislike of tour buses (the lodge parking lots are full of them) and the fact that my niece Sonja works in the park. She recommended we avoid the masses and opt instead for a rustic cabin at Apgar Village Lodge.
Authentic vs. touristy Glacier National Park
Located at the south end of Lake McDonald near the west entrance to Glacier National Park, Apgar is a charming little community consisting of a few places to stay, a deli, and a handful of shops. You can also rent boats here, and the visitor center offers interpretative programs.
Our cabin — located in a grove of cedar trees — provided clean beds, a hot shower, and cooking facilities, and I was so happy with the surroundings that I hardly noticed the missing five-star amenities.In fact, I considered it a huge luxury to watch the rapids in McDonald Creek with my first cup of tea in the morning and to have a front-row seat for the nightly sunset over Lake McDonald.
Sonja's local perspective also led us to some great meals. With her park ranger partner, we traveled the Outside North Fork Road to the Northern Lights Saloon in Polebridge. This 1912 log cabin — with a half-dozen tables inside and a couple of big cable spool tables out in front — is the social hub of the North Fork Valley.
This meal was so good and so much fun that I was extra sorry I'd "treated" all of us to dinner at Lake McDonald Lodge the night before – where the food and service were both disappointing.
America's national parks are treasure-troves of natural wonders, but when the historic lodges are described as "magnificent," it's their grand appearance and setting that are being referenced.
Authentic luxury travelers will have a better experience staying off the beaten path rather than joining the crowds. Here is information on good hotels near U.S. National Parks.
Have fun!
Category: Hotels, Montana, National Parks