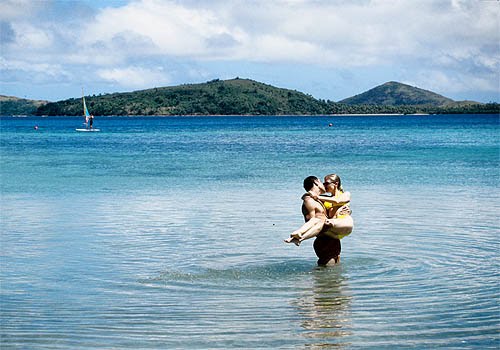 Turtle Island Resort is the perfect spot for a honeymoon, whether it be a first, second or "trial." Everything about this lush green paradise is natural and relaxing. Fourteen luxurious bures are placed so that each enjoys plenty of privacy and a "bure mama" caters to each couple's every need.
The Fijian staff live on the island or nearby, so guests experience their real lifestyle and culture – not some phony charade cooked up for tourists.
I remember some of the guests at Turtle Island Resort sitting under a tree with local men drinking kava and strumming a guitar. I often came upon a group of Fijian women singing – just for the joy of it – as I walked around the island. Most of all I remember their smiles. There's a reason Fiji is known as the "friendly isles," but at some of the big hotels on Viti Levu, the main island, the staff have become a bit jaded.
One night my husband and I ate dinner on a floating platform in the lagoon. Another time we enjoyed a secluded afternoon on a private beach. We also rose at dawn and went horseback riding on the beach. However, the reason I know I will return to Turtle Island is that the snorkeling is some of the best in the world. In the lagoon we saw myriad fish and coral through sparkling water.
What Others Say About Turtle Island Resort
David Stanley, author of the Moon guide to Fiji, sums up the Turtle Island Resort experience this way: "Richard Evanson has owned Nanuya Levu Island since 1972 and the first Blue Lagoon movie was shot there in 1980. Ever since, Evanson's Turtle Island Resort has been the benchmark against which all South Pacific luxury resorts are measured.
Turtle Island still has only 14 two-room bungalows and guests can relive the Hollywood film by having one of Nanuya Levu's dozen beaches all to themselves, for a day at least. Unlike many other upscale resorts in Fiji which nickle and dime clients for drinks, diving, fishing, and laundry, at Turtle Island everything other than Lomi Lomi massage is included. Although Turtle Island Resort delivers the dream in spades, the small size means mega-resort facilities like swimming pools, fitness rooms, and spas are lacking. But who needs a pool when you're offered a daily selection of private beaches where you can relive the exploits of castaways Christopher Atkins and Brooke Shields?"
Category: Destination Weddings & Honeymoons, Fiji, Snorkeling and Scuba Diving