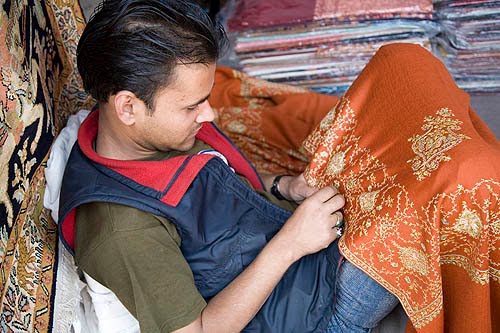 I felt very smug this week when President Obama, traveling in India, announced that the U.S. would soon begin trading more with this South Asian nation.
Trade deals with India are not new to me. I've been making them for years. In fact, each time I'm in Delhi I acquire so many "bargains" that I have to sit on my suitcase to get it closed.
Dilli Haat is one of my favorite places to shop in Delhi. This open-air arts and crafts market is patronized by locals as well as visitors, so the prices aren't hugely inflated. I also like that they charge 15 rupees (36 cents) admission, which discourages beggars and pickpockets.
Each time I enter this marketplace, I can feel my pulse quicken at the sight of 200 stalls laden with colorful shawls, Western and Indian clothing, beautiful woven tablecloths, exotic embroideries, and bolts of vibrant textiles.
The goods at Dilli Haat are from all over India — brought to Delhi by the rural artisans who create them. Each vendor can describe the process and history of his craft. I learned, for instance, that the oft-coveted pashmina shawl is made from cashmere wool that comes from Himalayan goats. It can be blended with silk or sheep's wool, made to single or double thickness, be embroidered or plain — all of which significantly impacts the price. I also learned that a shatoosh, a scarf woven from very rare antelope hair — in an effort to protect the animal — is outlawed in many countries (but sold under the counter in India).
Dilli Haat is almost always crowded, but the stalls behind the Craft Museum are not, so it's possible for travelers to visit with craft makers who do block printing, weaving, and delicate painting on lacquer boxes.
For designer clothing, my favorite shop is Anokhi, which has more than a dozen locations in India, including several in Delhi. Here I've seen clothing – a quilted block print jacket for instance – priced at $30, that would be $300 at Nordstrom. Fabindia, also with multiple locations, reminded me of Crate & Barrel. In contrast to the modern shops, the expansive spice market in Old Delhi is colorful, crowded, and uniquely Indian.
I don't know where the President stayed, but I like The Taj Mahal Hotel in New Delhi. From their elegant Taj Club lounge I enjoy a view over the city with breakfast. The other top spots are The Oberoi and the ITC Maurya Sheraton Hotel.
Bill Gates, Bill Clinton, and Mick Jagger have all dined in the Sheraton's famed Bukhara restaurant, but my secret spot is Diva. This Italian – yes, I said Italian – restaurant is the pride and joy of Ritu Dalmia, an Indian woman who went to Italy on behalf of her family's marble business and fell in loved with Italian cuisine. Wine Spectator says it's "one of the best wine lists in the world."
I bet the President didn't get to go there. Poor guy.
I hope this won't happen to you, but in case you are struck with Delhi Belly there's some good information here.