Cruise ships are fun for families and provide many conveniences, but – in my opinion – they don't really qualify as Authentic Luxury Travel. The ports that cruise ships visit are crowded with tourists, and the short stay in each place precludes any real contact with the local culture.
However, I do know of one ship that allows passengers to visit exotic destinations in an authentic way. The World is a floating community of 165 luxury apartments that moves continuously around the globe on an itinerary that includes stays of up to five days in some ports and expeditions to places as remote as Greenland and Antarctica.
The World is not a cruise ship, but it cruises around the world
With 12 decks and an overall length of 644 feet, The World could easily be mistaken for a cruise ship – which it definitely is not. Instead, it is a strikingly beautiful home-away-from-home for owners of studio, one-, two, – or three-bedroom residences who spend an average of four months on board every year.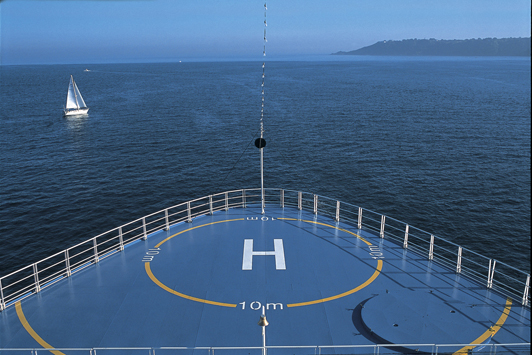 My husband and I recently sailed on The World from New York to Bermuda as "vacationing guests," meaning we were able to rent an apartment whose owners were elsewhere. Until we boarded, I really didn't know what to expect, but I was soon impressed with our one-bedroom, two-bath studio with its walk-in closet, veranda, and kitchenette facilities.
The World entertainment and dining
I enjoyed listening to the Juilliard String Quartet before dinner and was awestruck as we passed the floodlit Statue of Liberty – an experience made more dramatic by a water cannon salute from an NYFD fireboat. I later learned that such special treats are not unusual on The World because residents – who come from North America (49%), various European countries (36%), Asia, Australia, South America, and South Africa (15%) – enjoy myriad personal contacts around the globe.
The ship has six excellent restaurants, and all 106 two- and three-bedroom apartments have full kitchens. Some residents dine out every night, others cook for themselves, and others take advantage of the ship's "call a chef" and "in residence dining" options. After experiencing the remarkably attentive service during our first dinner, I concluded that The World is to ships what Aman is to resorts. Nuff said?
Tennis, jogging, golf and more – at sea
The World's residents and guests also enjoy the only Wimbledon-size tennis court at sea, a jogging track, two putting greens and a golf simulator, a paddle tennis court, a pool, and Jacuzzi. In addition, another pool and water sports center are located on deck 5.
While these places were all in use, the busiest area was the World Spa & Wellness Center. (Tip: book appointments well ahead to avoid disappointment.) It seems that residents use the time at sea to work out, catch up, and plan for the next port. Some apparently also try to shed a few pounds by choosing the South Beach Diet dishes that are offered on every menu. I, however, found it hard to resist the numerous indulgent options.
When we traveled, 170 residents and guests were onboard, as well as 260 crew and staff. In many ways, this floating community enjoys a camaraderie not unlike that of a land-based neighborhood. A Zumba class in the fitness center was taught by a resident volunteer, and my husband and I attended a hilarious play reading by residents in the theater. Enrichment activities include lectures and exhibits designed to bring the next destination alive.
Should you be interested in buying or being a guest, the contact phone number is (954) 538-8449. The website has more details and photos. Be sure to take a look at The World's 2015 itinerary.
Enjoy!
Category: Cruises