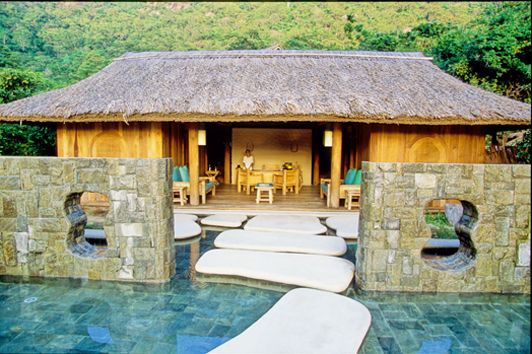 Vietnam luxury hotels, resorts, and villas are some of the best in the world. In my last post, I profiled some of my favorite accommodations. Here are three more wonderful places to stay, including a tropical beach resort, an exotic island retreat with a great spa, and an historic hotel that feels more French than Vietnamese:
Evason Ana Mandara, Nha Trang
Ana Mandara means "beautiful home for the guest," which makes it the perfect name for this deluxe beach resort. At one end of the property a large infinity pool appears to spill into the sea. Nearby, spa treatments are offered in outdoor pavilions and, throughout the area, tropical plants line winding paths. Guests on the beach need only raise a flag and staff members attend to their needs. Suite pampering includes an extensive pillow menu, fragrant sachets of herbs for the bath, and little clay pots of ginger tea. When I stayed here with my husband, we enjoyed the romantic Beach Restaurant, where we wriggled our toes in the sand and watched waves roll ashore during dinner.
Six Senses Ninh Van Bay, 20 minutes by boat from Nha Trang, Vietnam
This spectacular retreat – the offshore sister of Evason Ana Mandara – is nestled onto the rocky shore of an island off the coast of Nha Trang. Here, 58 spacious villas come with private vanishing-edge pools, rustic chic decors, and attentive personal butlers. Our villa was just steps from the beach, while others are nestled into the hillside or constructed over rock formations. Each beach villa is two stories with an open-air lounge above the ground floor bedroom and indoor-outdoor bathroom. We enjoyed the beach, snorkeling, lounging in our villa, and wandering to and from the spa, where superb therapists worked wonders. Trails through native bush connect bungalows to the restaurant, main pool, tennis court, spa, and library.
Dalat Palace Heritage Luxury Hotel, Dalat
Dalat's climate is considerably cooler than Ho Chi Minh City, so it isn't hard to understand why French colonists chose it for their capital. They built an artificial lake and then opened the first rooms of the Dalat Palace Hotel in 1922. Today, the truly palatial hotel – with very high ceilings, antiques, and ornate draperies – feels more French than Vietnamese. This resort city is still a popular retreat from sultry Saigon – especially for honeymooners. At Le Café de la Poste we enjoyed the set menu that included salade verte, beef bourguignon, and crème caramel. Area attractions include an enormous public market, waterfalls, and shopping for bargains on local crafts in Lang Ga, the "Chicken Village." The later is a little hard to find, but if you have a good driver from a good travel company, it won't be a problem.
Writing about these beautiful lodgings, makes me want to jump on a plane to Vietnam right now.
Click here to read some of the magazine articles I've written about Vietnam.
Photo credit: ADAMS / HANSEN STOCK PHOTOS.