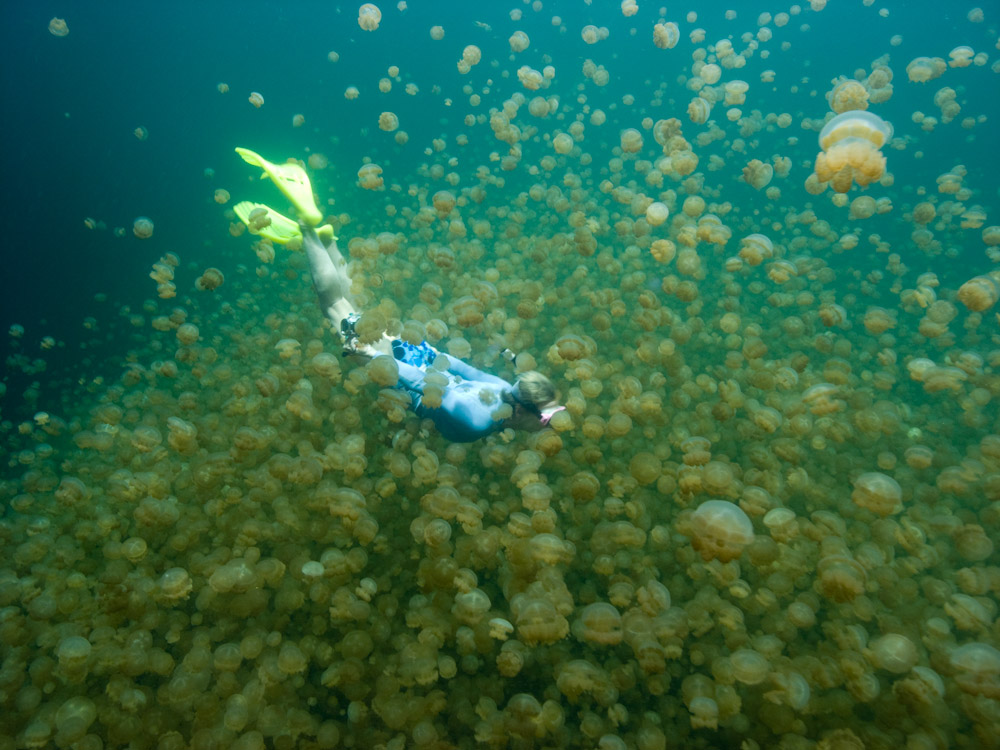 Personalized Tours: Snorkeling in Palau and Yap.  This is Jellyfish Lake, Palau.
Sometimes the most authentic way to experience a destination is with a small group led by an expert guide. Such was the case when my neighbor Daira Paulson went snorkeling in Micronesia last year.
"We took a Sea for Yourself snorkel trip to Yap and Palau, where we snorkeled in clear warm water with a wide variety of colorful fish and coral. It was a spectacular experience. The group size is limited (we had nine).
"The company owner, a marine biologist, and another marine biologist who has lived in Palau for 11 years, were our guides. In addition to full snorkel days, we had evening presentations on a variety of marine biology topics.
We were in Yap for three days, one of which included an afternoon visit to a local village. This visit was arranged through the personal connection of our guide. It was not a commercial venue. The women are still topless and, along with the village elders and children, demonstrated aspects of their culture and their somewhat subsistence lifestyle.
While in Yap we stayed in an average hotel, as it is the only hotel in Yap with a dock. It was nothing fancy, but fully adequate. Its location gave us quick access to the boat that was exclusively for our group.
Our base in Palau was in a lovely five-star resort (Palau Pacific Resort) situated on a pristine bay filled with a variety of corals, clams, and fish. It had a dock and, again, we had our own dedicated boat.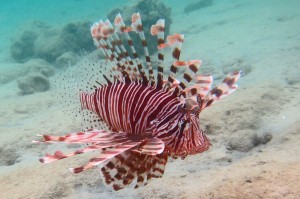 A typical day was to depart at 9 each morning. On some days, the resort packed a picnic lunch, which we enjoyed on pure white sandy beaches. On other days, we returned to the resort for lunch and then departed again for an afternoon snorkel. Almost all the snorkels are done over reefs 5-10 feet below the surface. We went to a "drop off reef" one day and on another, swam in Jellyfish Lake (an amazing experience).
I like taking underwater photos. I was thrilled to come home with photos of 25 different Butterflyfish species – and that's just the beginning. Coral. Triggerfish. Surgeonfish. Damsels. Jacks. Sharks. Eels. Parrotfish and so much more. We even saw Japanese planes shot down during the war.
Snorkel trips aren't for everyone, but I love them."
Photo credit: Daira Paulson
Category: Palau, Snorkeling and Scuba Diving