Marybeth Bond and daughter Annalyse with bride and groom at wedding they were invited to attend. "Traveling as a family opens so many doors and friendships." MBB
Many travelers, including me, are fascinated by Myanmar (Burma), but for more than ten years we struggled with the morality of traveling there due to the country's human rights record. However, now the freed Aung San Suu Kyi has said that responsible visitors can help to change Burma for the better, and the country has become a popular destination for adventurous travelers.
Click here to read the informative travel /tourism section of "Network Myanmar."
What to do in Myanmar and where to stay –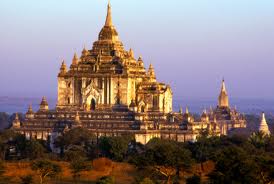 The most popular attractions are ancient Buddhist temples and sprawling markets. The local people, often described as gentle, humorous, and engaging, welcome visitors. The Governor's Residence in Yangon and Inle Lake View Resort & Spa are two of the country's best hotels.
How to get to Myanmar – Bangkok, Thailand, is the gateway to Yangon in Myanmar – and you'll need to obtain a visa ahead of time.
Authentic Luxury Travelers can arrange customized trips through Artisans of Leisure (800-214-8144) in the U. S. and Audley Travel (01993 838 000) in the UK, among others.
Insider Tips - Marybeth Bond, award-winning travel author and founder of GutsyTraveler.com, traveled in Myanmar in 2011 and offered this guest post to Authentic Luxury Travel  "In May my daughters and I traded all our award miles for passage to Myanmar, formerly Burma. I did not go as a journalist, nor have I written about the experience. It was a private trip and we were extremely careful to leave the bulk of our tourist dollars in the hands of local guides and family-owned hotels. Why? Because tour companies and large hotels are owned by or share profits with the military generals, thus supporting the dictatorship. We didn't pay for services or tours in advance. We paid for everything in cash. Since there are no ATM's in Myanmar and the only places that accept credit cards are government-owned, we were forced to carry all our money for the entire trip in my money-belt. Crisp $100 bills. Every inconvenience and discomfort was rewarded by our experiences with the locals.
From Yangon to Bagan, Mandalay and Inle Lake, we talked to people who would talk and learned about human rights abuses and the conditions of their restricted lives. We gave our English books away, as locals cherished outside contact.
Despite all odds, they remained hopeful.
In recent weeks we've been heartened as hundreds of opposition activists were freed and there has been normalization of United States/Myanmar relations. We watched our Secretary of State Hillary Clinton meet with Nobel Peace laureate and opposition leader Aung San Suu Kyi. We hope that our visit during the end of the dictatorship marks the beginning of the freedom many have dreamed of for so long. "
Photo courtesy: Marybeth Bond, http://www.gutsytraveler.com/
Category: Myanmar