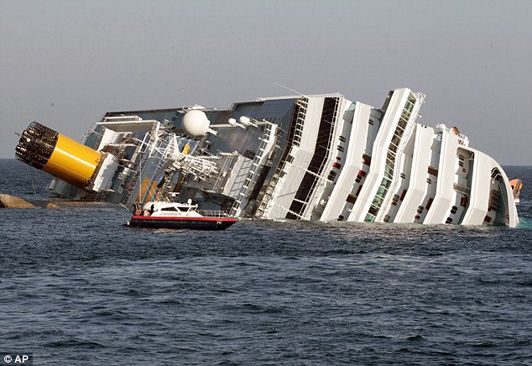 The Costa Concordia sinking off the coast of Italy
This week has made many travelers wonder if cruises are a safe vacation option.
Of course, industry officials are saying "yes," while the media is re-capping stories of passengers who disappeared in stormy seas, vessels attacked by Somali pirates, and contagious illnesses that swept through ships like a prairie fire.
Is cruising an authentic travel experience?
While I sympathize with those who have lost loved ones on cruise ships, the debate about ship safety won't influence my travel plans. Like many of you, my trips are about authentic experiences. I travel to discover a destination, to meet local people, and to learn something about their culture – and cruise ships don't provide this experience.
Organized shore excursions usually focus on the local "tourist attractions," and even passengers who hire a private guide are limited by the fact that there isn't enough time in port to explore very far a field. Often the shops in the vicinity of the dock are stocked with goods made in other countries and priced for buyers who don't have the option of comparison shopping.
I know of only one ship that allows passengers to visit exotic destinations in an authentic way. The World is a floating community of 165 luxury apartments that moves continuously around the globe on an itinerary that includes stays of up to five days in some ports and expeditions to places as remote as Greenland and Antarctica. With 12 decks and an overall length of 644 feet, The World could easily be mistaken for a cruise ship – which it definitely is not.
While cruise ships do not meet the definition of Authentic Luxury Travel, they are great for family reunions, socializing with other passengers, and being pampered (to various degrees) with myriad food and entertainment options.
A couple of years ago, four generations of our family enjoyed a week along the Inside Passage of Alaska. We had fun, but I thought of it as a floating family reunion, not a travel experience.
Cruise ships can also be learning vacations if knowledgeable speakers are invited on board. On the other hand, don't we all live near a community college that offers similar types of classes?
My guess is that people who cruise because they love shipboard activities and the social life will not let the tragedy of the Costa Concordia change their plans.
The sinking of the Titanic didn't curtail Atlantic crossings, and I think by spring, the sun-drenched Mediterranean will have dissolved today's iceberg of safety concerns.
Category: Authentic Travel, Cruises