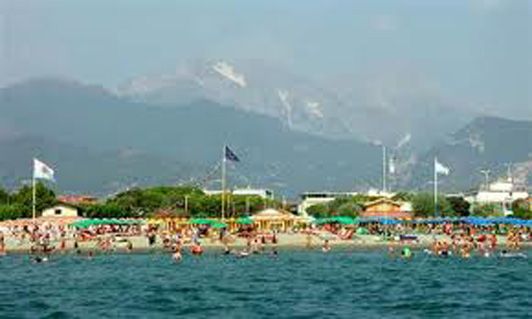 Forte dei Marmi, Northern Tuscany, Italy
When travelers think of Tuscany, it's usually the splendid cities – Florence, Siena, Lucca, and Pisa – and the Chianti region that come to mind. However,things to do and sights to see are also located in the Versilia area of Northern Tuscany – a coastal section stretching from south of Viareggio to beyond Carrara.
This "Insider's Guide" is courtesy of Serena Giovannoni, who lives in Viareggio, the largest beach town in Tuscany. During the summer, Italians flock to this seaside resort, where they happily pay for beach chairs, umbrellas, and the use of changing rooms.
Serena, a "travel consultant, wedding planner, and personal concierge" provides more information on her website and her blog.
"This area of Northern Tuscany is blessed with a long sandy coast, the marble peaks of the Apuan Alps, and beautiful Massaciuccoli Lake, also known as 'Puccini Lake' after the famous composer. The Romans used the pure white marble from here for buildings all around their Empire. During the Middle Ages, kings and pilgrims threaded the Via Francigena, the holy trail crossing the Apennines north-to-south connecting Canterbury to Rome. Now, Versilia is popular for its mild weather, colourful Mediterranean plants, and the art-déco buildings that line the seafront. Travelers wandering off the beaten path also discover tiny villages scattered over the hills; ancient churches; and marble, bronze, and mosaic workshops that export art pieces all over the world.
"There are many reasons to visit Versilia, but here are a few of my favorites:
Carrara marble quarries
Michelangelo demanded the white marble from Carrara for La Pietà, and these 'white gold' slabs remain in high demand. Versilia is the only place to see them in their natural setting. Visitors can tour the quarries in off-road vehicles or fly over the white peaks in helicopters which depart from the Cinquale heliport.
Insider tip: InColonnata village, fat is still aged in Roman-style marble tanks. Taste an unforgettable "bruschetta" made with lard, fresh tomato, and rosemary.
Forte dei Marmi
Forte dei Marmi is a trendy beach resort in Versilia that attracts wealthy Italians and Russian tycoons during the summer. Rock singer Zucchero spent most of his childhood here. Italian tenor Andrea Bocelli lives here. The British sculptor and artist Henry Moore had a studio in Forte dei Marmi and lived at the Hotel Ritz Forte Dei Marmi. Giorgio Armani also has a villa in Forte dei Marmi.
Insider tip: Glittering boutiques in Forte dei Marmifeature top Italian fashions. Wednesday is the best day to shop because there's an open market in the centralsquare displaying deals on designer clothes alongside hand-made household linens and leather goods.
Artistic workshops in Pietrasanta
Pietrasanta is a well-known center for artistic bronze and marble working. This little town is a well preserved medieval enclave surrounded by walls and characterised by a splendid Romanesque cathedral and cloister.
Insider tip: In the last few years, Pietrasanta has become popular for its many restaurants and osterias. L'Enoteca Marcucci, which combines traditional cooking with innovation, is one of the best. Ask for a bottle of their own-produced champagne, called "Basetta."
Puccini and his land
Giacomo Puccini was born in Lucca and spent most of his life in Versilia on the shore of Massaciuccoli Lake. Many of his belongings and pictures are displayed in the museum in his former home in the village of Torre del Lago Puccini (about 5km/3miles from Viareggio). Every summer there is a Puccini Festival held in an outdoor theatre on the lake.
Insider tip: Take a boat trip across the lake toVilla Piaggetta, which belonged to a noble family and close friend of Puccini. From time to time they lent him their piano and quiet solitude to compose music while breathing the sea breeze."
Grazie per la buona informazione, Serena.
Category: Italy