Comfortable shoes can make or break a trip, and the right handbag is almost as important. So what does the best travel bag look like? If you design it yourself at Forever Frogs it can be as wild or low-key as you want.
I've already had fun customizing a messenger bag with a long strap that I can wear across my body or carry by a short handle strap. If your idea of the best travel bag is a drawstring bag, a backpack, or a lunch bag, Forever Frogs has those, too.
Go to the site and pick the type of bag you want, and then choose the fabric for the front and back, as well as the straps, zipper, and handle. You can even have it embroidered with your name or monogram. It's really fun. After I designed my best travel bag, I created a colorful custom lunch bag for the four-year-old in our family. It's vinyl lined inside for easy cleaning with a large front pocket for extra space, and it comes with a zipper top closure and nylon handle strap. She'll be stylin' at pre-school for sure.
It's also altruistic. Forever Frogs was created by a mom who lost her daughter to brain cancer at the age of 5. A portion of all proceeds  go to the Payton Wright Foundation. The bags are made in the U.S. with high quality, durable fabrics.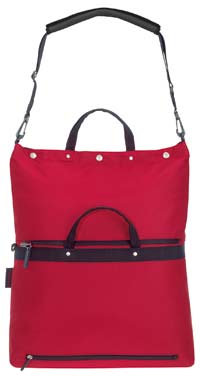 German design company Reisenthel also offers a wide array of bags, totes and expandable carry-ons, and one of them might just be your best travel bag. The hip airbelt bag is made with a regulation airplane seatbelt buckle and can be opened singlehandedly when your other hand is holding onto a tot or another bag.
For extra room when you need it, the new "e-series" of bags and totes expand and contract to give you room when you need it. The Reisenthel Expandable Travel Shopper Bag is approximately 20" x 11" x 6.5", but it expands to 20" x 21" x 6.5" (shown right) and holds up to 33 pounds.
Reisenthel calls the shopper e2 "A true master of spatial magic." Made from durable material, these attractive travel companions weigh very little despite their incredible sturdiness. If you're a shopper, maybe this is the best travel bag for you.
Once you find your best bag, consider using a grab guard to keep it safe.
Category: Packing