I love to walk and I recently took advantage of a great opportunity to experience the best places to walk in Northern California.
It was one of those spur-of-the-moment decisions that authentic travelers make because we're open to spontaneous adventures on the road less traveled.
A friend of mine had planned a walking trip from Davenport, just north of Santa Cruz, to San Francisco – and at the last minute someone canceled and I was able to join the party.
Keep in mind that I have lived in California almost all of my life and have seen more than my fair share of the world's most beautiful beaches, but I had no idea that our state parks offer some of the best places to walk in Northern California.
It took us five days at a leisurely pace to cover the 60 miles (97 km) and, while you might not have time to follow in all of our footsteps, I want to point out some of the most spectacular spots. This way, you'll know where to stop as you motor up (or down) Highway 1.
Best Places to Walk in Northern California
We spent the first night about ten minutes north of Santa Cruz at the Davenport Roadhouse, a cozy spot that dates from about 1910 when this part of the Pacific attracted whalers from as far away as the East Coast. Today, the Roadhouse offers eight atmospheric rooms and a surprisingly good menu of California coastal cuisine featuring fresh ingredients from neighboring organic farms.
As we walked north from Greyhound Rock, I was captivated by the wild waves that crashed on windswept beaches and the fact that we saw no signs of human habitation. Certainly, this is what the first European voyagers came upon – globs of pink seaweed that looks like overcooked red cabbage on the beach, pods of seals and sea lions, and huge flocks of seagulls that took flight as we approached.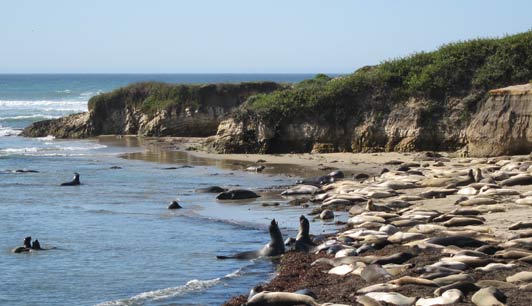 Año Nuevo State Reserve was another highlight. Here we hiked through sand dunes to a colony of elephant seals. The massive animals were sunning themselves on the beach and sparring in the shallow water of a cove.
As we hiked toward the viewpoint at Franklin Point, a huge flock of Canada geese took to the air – and the sight took my breath away.
If you have a chance to drive California's Highway 1, you'll also want to stop at Pigeon Point Lighthouse, a very scenic historic site where we saw dolphins offshore.
The beautiful stretch of sand from Pomponio State Beach to San Gregorio was isolated and otherworldly, so when we came upon the elaborate high-tech movie set for Chasing Mavericksin the San Gregorio parking lot, it seemed more than slightly incongruous.
The movie – about a young surfer with a passion to ride a wild wave – is in theatres now, and I can't wait to see it. It isn't getting great reviews, but it will be fun to see images from that part of the spectacularly scenic California coast.
More about Chasing Mavericks and Half Moon Bay in my next post.
In the meantime, read about my hometown – La Jolla – here.  Find out why La Jolla is San Diego's favorite coastal community.
Wherever you are in the Golden State – have fun!
Category: Northern California, Walking vacations