Manuel de Croutte would like to introduce you to the art de vivre in France, and my advice is that you should let him. As you may already know (I didn't), the art de vivre literally means the "art of living," but in France it's code for French history, tradition, culture, and – most of all – culinary heritage.
I can't think of a more authentic way to see cultural France than to be guided by Manuel. His years of experience and extensive personal contacts open doors to historical sites, castles, vineyards, old homes and museums not usually open to the general public. You will find yourself dining with French aristocracy and sometimes overnighting in their grand houses.
Certainly this is an authentic luxury experience and, as is almost always the case, the customized itinerary and personal attention is as important as the fine surroundings.
Manuel would be happy to welcome you when you arrive in France and accompany you on journeys to various regions, depending on your preference. You might decide to visit Normandy or Mont Saint Michel or the Loire Valley – or all three and more. Details of sample excursions are on his site Exclusive and Private. Just know that you will be treated to a unique and memorable view of cultural France
Exclusive & Private can organize special events in France, such as family gatherings, honeymoons, and celebrations. They can also create bespoke itineraries in other European countries.
Read what previous clients said about their private five-day tour with Manuel through the southwest of France from Pau to Bordeaux via Biarritz:
"When we arrived in Pau, our guide and special new friend, Manuel de Croutte, was waiting for us at the airport. From the moment we were picked up, we were taken on the most perfect holiday of our lives. Everything was arranged by Manuel… from the luggage to the flowers, to the finest rooms, to the most extraordinary meals.
There were also amazing surprises like picking us up one evening and unexpectedly bringing us to the Chateau d'Arcangues outside Biarritz, where we met and had cocktails with the Marquis Michel d'Arcangues, sharing an intimate candlelight dinner that could never be recreated. Having traveled worldwide and been on numerous exclusive holidays, this was certainly the highlight in our lives in terms of delivering ultimate luxury and first-class treatment." Owen & Ellen Coleman, New York – USA
And here's what Jeffrey Garten said about Paris:
Dear Manuel,
On behalf of my wife Ina and myself, I wanted to thank you once again for making our trips to Paris so wonderful. We have been coming to Paris regularly since 2000, but when we met you about a year ago, the experience became much richer in many ways. First of all, we love the special customized tours you have constructed and arranged for us, such as "historical" Paris, private gardens of Paris, Paris under the German occupation. In every case, you managed to find expert guides who were not just knowledgeable but very cordial and very interesting people.
Second , you have given us recommendations for, and access to, some of the great exhibitions in the city that were otherwise sold out, such as the Stein family collection and the Hopper exhibition. The personal, customized tours are always with a guide who is so masterful that the experience is truly memorable.
Third, when it has been totally impossible to get a reservation, you made it happen, such as our upcoming dinner at Jules Verne. And finally, you have created unique events that we and our friends will remember forever, such as the moonlight cruises on a private yacht down the Seine River. Beyond all that, it has been a pleasure dealing with you, who are always patient and gracious with us, despite the fact that we often ask you at the last minute for something big, and we are forever changing plans.
Best regards,
Jeffrey Garten, New York
Are you ready to experience the art de vivre?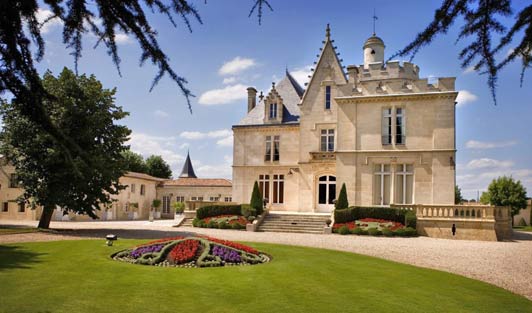 Chateau Pape Clement, Bordeaux.
[feather_share]
Category: France, Travel Experts