Vietnam Alive is easily the best travel company in Vietnam. They excel at planning customized trips for families, couples, individuals and small groups of friends or colleagues.
Van Nguyen, founder of Vietnam Alive, works with guests to create an itinerary based on their interests, available time, and budget. He and his staff of travel specialists are great at staying in touch during this process and being responsive to questions. Whether you want to experience a homestay in the Mekong Delta or all five-star hotels, a family dinner in Ho Chi Minh City or the country's best restaurants – they will make it happen.
Quite honestly, I'm not really sure how he manages to be so available because he seems to be constantly traveling around Vietnam staying up-to-date on new hotels and attractions as they come online. I can't even count the number of times Van has emailed me about a new resort he's just toured and then six months or a year later I read about it in the top U.S. travel publications. I have written about my favorite Vietnamese hotels and resorts on this site here and here, but – honestly – Van is much more current than I am.
And Van isn't the only caring person at Vietnam Alive. He oversees a staff of guides and drivers who share his commitment to making each trip the best it can possibly be. I especially love that everyone at Vietnam Alive understands the importance of avoiding the usual tourist routes and seeking culturally authentic alternatives.
But don't take my word for it. Search all the usual suspects (TripAdvisor, FaceBook, Twitter), and read what the guests of Vietnam Alive have to say. Here's a sampling of comments from the "thank you" letters Van has received.
Happy Guests with Vietnam Alive Travel: "My husband and I toured with Vietnam Alive in July 2013 and were so impressed with the itinerary that was developed for our visit to Vietnam and Cambodia. At each location we had our own guide and driver and in each location both were superlative. We had the best time and we had the perfect balance between relaxing and touring. We loved every minute and we are already planning our next visit" Mrs. Donna Gaynor.
Mr. Paul F Rafferty (United States): "We have just returned from a two week trip in Vietnam in July, 2013 using Vietnam Alive operated by the ever attentive Mr. Van. As with other reviews  found here, our family is quite experienced with solo travel and we had  never used a service like this before. However, because of the language barrier and inability to move around Vietnam freely in a rented car, we cautiously chose Vietnam Alive after a great deal of research. And, we  must say, Mr. Van's company was simply excellent. At every airport destination, our guide was waiting. Our itineraries were excellently planned. The hotels chosen were as good as one may find anywhere in the world. There were no flaws, hitches, problems, or hiccups. When one  considers that our trip involved multiple plane flights, trains, boats, and a handfull of hotels–all of which were organized by Mr. Van's  company, the execution here by VA was just amazing. Look no further.  Email Vietnam Alive and inquire, and note even from the initial response  the level of excellence reflected by this fine company."
Mr. Jay Forney (United States): "My wife and I just returned in April from a Southeast Asia trip that included a stop in Ho Chi Minh City. I am not a fan of tour guides or tour companies in general and neither is my wife, however, my brother and his wife could not stop talking about Vietnam Alive Travel when they returned a few years ago from a trip to Vietnam as well. So, on his sound advice, I reached out to Vietnam Alive in advance of our trip. It was fantastic from the start….lightening fast responses and Van, the owner himself, worked with me via email to tailor my trip exactly the way we wanted it since we had limited time there. Once we arrived, late at night, a gentleman was waiting patiently for us at the aiport to take us to the hotel, which is usually included in most packages/tours, even for day tours. The next morning we were greeted in the AM after a great sleep by Vu, our guide around HCMC and Mr. Hip, our driver, both super nice guys and very accommodating. We were scooped up in a large, air conditioned private van and off we went. Vu gave us the choice of the order of what we wanted…we even stopped at a great little place for lunch where the food was simple but delicious. Afterwards, we were dropped off at the hotel around 4:30, but before we returned, Van, the owner, called us and asked us if we would like to get together for a quick dinner in the evening. Naturally, we gladly accepted. He came by the hotel in the early evening and we walked down the street to a local place and had a blast. Great food, cold beer and solid conversation. It was a great cultural experience. .. For a couple who are not neccessarily big fans of travel tours, this has certainly changed my opinion knowing there are companies like Vietnam Alive Travel out there. I HIGHLY RECOMMEND if you plan on visiting HCMC, or even any other parts of Vietnam and the surrounding countries, they have tour options at solid prices, all over for whatever suits your particular needs.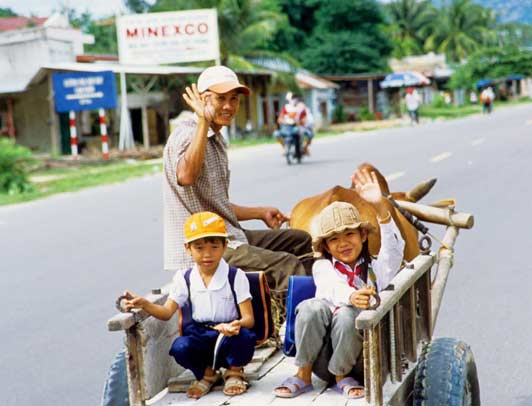 Category: Travel Experts, Vietnam