I was excited to find this Big Island boutique hotel because I love authentic accommodations that reflect the local culture – and that's just what the Holualoa Inn does. Before making this discover, I thought that mega-resorts were the only luxury option on the Big Island of Hawaii, but now I know better.
Located mauka (toward the mountains) from Kona, this bed-and-breakfast offers a wonderful ocean view and amazingly peaceful surroundings. It's cooler here than on the coast, so 6,000 coffee trees and a fruit orchard thrive on the 30-acre property. Another wonderful thing about the location: the community of Holualoa is an art center and galleries abound.
When guests of this Big Island boutique hotel aren't out exploring the area or enjoying the beaches around Kona, they can sit and gaze at the view from the pool or gazebo, absorb the beauty of the Buddha garden, or relax in the shared ohana (family) room (with fridge, microwave, and nearby barbecue).
Rooms with a view
Four of the six guest rooms at this Big Island boutique hotel have an ocean view, and they all come with private bathrooms, ceiling fans, and quality bed linens. (You know I'm a big fan of high-thread count linens, right?)
In addition to the comfortable rooms in the house, a vintage cottage provides an ocean view, separate bedroom, and fully-equipped kitchen. The former home of late Hawaii artist Darrell Hill, the 1940's era cottage has been beautifully renovated and artfully furnished – making it ideal for couples or honeymooners. Guests in the Darrell Hill Cottage can take advantage of the inn's on-site amenities, including the swimming pool and massage hale (pavilion) or enjoy a massage in the cottage or on its private lanai.
Best Big Island boutique hotel
The Holualoa Inn was built in the 1970s as the private estate of the Twigg-Smith family – fifth generation Hawaii residents and former publishers of the Honolulu Advertiser, now known primarily for their philanthropy. (Search "Hawaii's richest people" if you want to know more.)
If you stay here, you'll be surrounded by museum-quality Asian artefacts (including some gorgeous ceramics) and paintings by local artists.
Guests who rise early make their own coffee (grown and roasted on the property) in the beautiful country kitchen and enjoy that first precious cup of the day in front of the fireplace in the living room or at the pool. This is a true luxury that a big resort just couldn't offer.
A served breakfast is included in the rate, and the "estate manager" is on hand until 5 p.m. to answer questions about local attractions, activities, and special needs. She can also arrange for a massage therapist to come to this Big Island boutique hotel. After 5, guests come and go, eat in, eat out or do whatever suits them.
Holualoa Inn is also a popular place for intimate destination weddings and family reunions. The estate's Malulani Open-Air Pavilion offers a panoramic view and accommodates up to 120 people seated.
Of course, numerous hotels, motels, and resorts are located around Kona and further north on the Kohala Coast, but none of them offer a culturally authentic Hawaiian experience like this Big Island boutique hotel. I hope you'll enjoy this property as much as I did.
Cheers,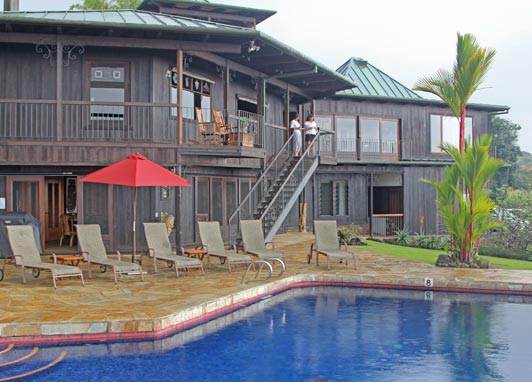 Category: Destination Weddings & Honeymoons, Hawaii, Hotels