The California coast never ceases to amaze me. I've lived in the Golden State for most of my life and walk down to La Jolla Shores Beach several times a week. And yet, every time I stop and look at the big breakers, seagulls flying overhead, and waves forming little scallop patterns as they roll up on the sand – I am filled with wonder. Perhaps because of my penchant for ocean views, I recently received a copy of Pier Pressure by Kathy Schroeder (Schiffer Publishing, 2013). This book includes photos, details, and history of the 51 piers that extend into the Pacific between San Diego and San Francisco.
Pier (re)view
These piers offer some of the best views of the California coast. Unlike Highway 1, which follows along the California coast, the piers actually extend over the ocean and provide a unique look both toward the horizon and back at the land. Over the years, I've walked out on many of the wharves profiled in the book, and it was fun to see pictures of these places and discover new ones. The author does a good job of providing background info on their history and cultural significance. If you share my passion for great panoramas or just want to add another dimension to your next road trip along the California coast – here are some of my favorite view points:
Huntington Beach Pier
Located just south of Los Angeles in Orange County, Huntington Beach is the Surf City USA celebrated by Jan & Dean in their 1963 hit song. Surf shops abound, 50 competitions take place throughout the year, and "surf first, everything else second" is the local mantra. Vendors, lifeguards, and fishermen share space on the long cement and steel pier, and a Ruby's restaurant is perched on the end. It's a happening scene. What I remember most is standing on the pier and looking at the backs of the surfers in the line-up waiting for a perfect wave. They were so close that I could hear them talking among themselves, and I could sense how much they loved being out there on their boards.
Three Piers at Avila Beach
My family and I recently stayed at Sycamore Springs Resort  just south of San Luis Obispo and went for lots of walks in the area. The most memorable was to the waterfront at Avila Beach where three piers extend over the ocean. The longest of these is Avila Beach Pier, but the most interesting to us was the Harford Pier, home to the Olde Port Inn. Here, we enjoyed the view and a delicious seafood lunch at a glass-top bottomless table that enabled us to watch marine life beneath the pier while we ate. My warm Greek salad with fresh-caught rock cod was delicious, and the others felt similarly about their crab sandwiches and fish and chips.
The Harford Pier was built in 1873 by an early settler who used it to offload schooners. Like other piers along the California coast, it's a great place to watch the sunset.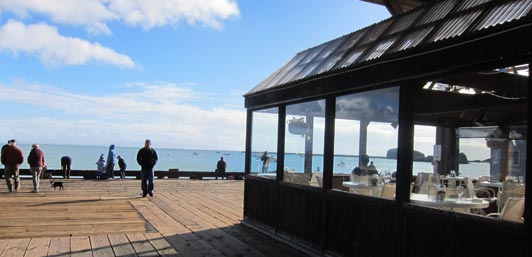 Olde Port Inn, Harford Pier, Avila Beach.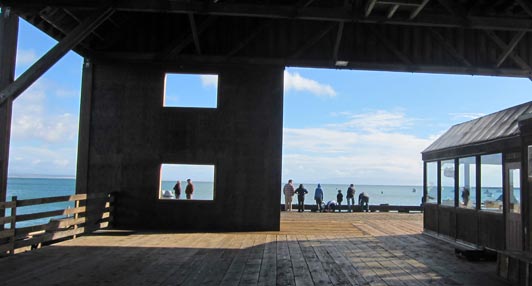 California coast piers in the San Diego area
Scripps Pier in La Jolla
I walk under the Scripps Pier at La Jolla Shores Beach several times a week. This iconic spot is a popular place to take engagement photos, holiday card pictures – I've even seen it being used for corporate shoots. This research pier is used by Scripps Institution of Oceanography and is only open to the public on special occasions.  If you'd like to explore the pier with a guide from Scripps, watch the Birch Aquarium website for the dates of their summertime narrated Full Moon Pier Walks.
Crystal Pier in Pacific Beach
This historic pier offers a rare opportunity to sleep over the ocean. The 29 blue and white cottages on the pier all come with kitchenettes and a breezy deck or patio. Guests can come and go 24 hours a day, and non-guests can walk out and enjoy the California coast view during daylight hours.
The Crystal Pier Hotel offers a unique option and is limited in size, so be sure to reserve well in advance.  Because I live nearby, I've never slept here, but I've been to several parties at the cottages and you just couldn't ask for a better location. Enjoy the view. Cheers,
Category: Southern California