This guest post was contributed by Claudia Coppola who lives in Verona, Italy.
"This was Venice, the flattering and suspect beauty—this city, half fairy tale and half tourist trap, in whose insalubrious air the arts once rankly and voluptuously blossomed, where composers have been inspired to lulling tones of somniferous eroticism." Thomas Mann (1875–1955), German author, critic. From Death in Venice.
Everybody seems to know Venice, but I am sure that few people take time to feel the hidden and fabulous atmosphere of its islands.
And I'm not talking about those famous ones like Murano or Burano. I am talking about the silence of wild beaches hidden beyond thick walls, small churches dominating empty and silent squares, restaurants where fresh fish is served to foreign tourists and locals at the same price (and this is not understood…believe me!)
Getting to non-touristy Venice
This is authentic Venice, for those who really want to discover its real life – the face beyond the chaos of S. Mark Square. So if you have time in spring or summertime, I invite you to depart from Piazzale Roma by Vaporetto 51 or 61 and head to Piazzale Santa Maria Elisabetta on Lido Island. The lido is the 7+ mile (12 km)  land barrier between the city of Venice and the Adriatic Sea.
From the waterbus dock, walk 400 meters along the Granviale Santa Maria Elisabetta to the east side of the island and Venice Bike Rental  Here your cycle adventure of about 9 miles (15 km) starts among refined architecture, nature and the sea.
On the Lungomare (street along the waterfront) you will first wonder at the beautiful buildings in Liberty style, such as the Grand Hotel des Bains, made famous by the novel Death in Venice by Thomas Mann. You continue by passing in front of the Hotel Excelsior, the other famous and historic hotel of the Lido with its elegant towers dominating the sea. The Lungomare continues for a few hundred meters up to a 90° curve to the right. Here, you can climb up to the seawall (which was constructed to protect the Lido from storm surges) where there is a narrow roadway that is also an excellent bike path.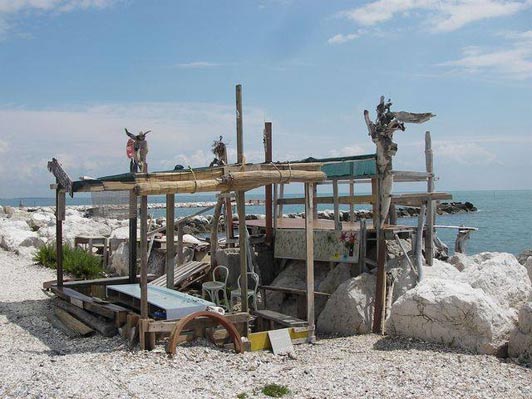 There you can enjoy reefs of huge rocks and pennelli ("paint brushes") extending  into the sea. Also, here and there,  pleasant collections of  unique wooden sculptures, wooden totems, huts made from recovered materials where young people enjoy some drinks and chats …. and always the music of the waves on one side and the croacking of cicadas on the other side.
The seawall and the bike path end at Alberoni Beach, so stop for a swim! Then go back to the centre of Malamocco village and have lunch at the trattoria (rustic restaurant) Scarso di Chiara. Here you'll find a typical Venetian atmosphere. I suggest you wait for a table in the nice courtyard, drink a typical spritz (Prosecco and Aperol/Campari) and then enjoy a wonderful fish menu starting with sarde in saor (marinated sardines) going on with bigoli in salsa (a Venetian speciality, home made thick spaghetti served with a sauce of onions and anchovies) and grigliata mista (mixed grilled fish) and all this with some delicious local Prosecco.
How to go back from this paradise of pleasure….just relax and take it easy.  This is life! This is real Venice! The fairy tale.

Claudia Coppola is CEO of Jet Events, where she offers personal travel consulting and innovative, tailor-made itineraries that lead to memorable experiences.
"We know our country like the back of our hand, especially with regard to these areas: Venice, Verona and Lake Garda; Tuscany/Chianti region and coastal Versilia; Rome and the beautiful Castelli Romani area."
Category: Italy, Travel Experts