Botswana was "the trip of a lifetime," says Kathleen Hubbard-Ismail. Read her trip report and you'll understand why.
When our granddaughter was born, we began saving.  We had a jar in our pantry called "the Africa jar" and for thirteen years we deposited our coins saving for our one-day safari to Africa.  Finally  that safari came.  On August 5, 2012 my husband, son, his wife and our two granddaughters (6 of us) headed off on our journey overflowing with anticipation.
We were NOT disappointed!  Nothing could have prepared us for the power of Zimbabwe's Victoria Falls or the stunning animals of Botswana.  Our days began with early sunrise drives across the bush with eyes and ears keenly tensed in search of animals.  And did we see them!  Monkeys, elephants, giraffes, zebras, lions, antelope, leopard, wildebeest, hippopotamus and birds of all kinds.  To see them in their wild, natural, undisturbed and protected environment was absolutely breath taking.
Our Botswana guides were brilliant!
With subtle ease and humor, they shared with us tales of the ebb and flow of this codependent and altruistic world that Mother Nature weaves out here on the African plain. Our evening drives found us in the middle of nowhere surrounded by the deafening silence of the bush sharing tea and watching the sun drop down behind the local baobab tree.  Remote, distinguished yet simple elegance were the camps in which we dined by candlelight, open fires and soft conversations under the stars.  It was over too soon while being just the right amount of time to experience this life altering adventure.
Seeing these remarkable and unspoiled National Parks of Botswana overflowing with pristine landscapes and full of the beautiful and powerful animals in their natural environment is a must see for everyone who loves our plant earth.  Here all is unspoiled and magnificently preserved.  Best of all, we saw it without the crowds.  It was such a private and personal trip.  Everything was perfect!   I could never begin to thank Ashworth Africa for planning, preparing and delivering such a remarkable adventure for our family.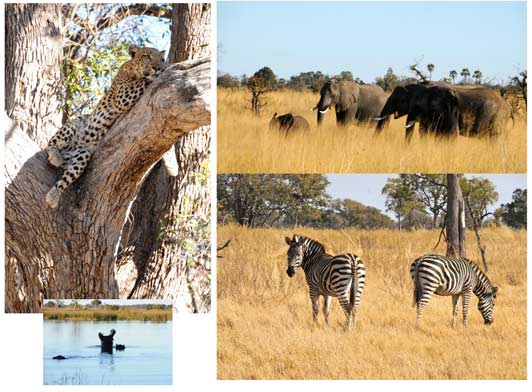 I researched and consulted with many different travel agencies before selecting Ashworth Africa.  No only was the Ashworth price significantly better than the others but the personal service we received from Patrick was the deciding factor.  I will never be able to thank him enough for the adventure he prepared and delivered for our family.
Now, on winter evenings after dinner by the fire in our home in Vermont or on summer evenings out in the back yard under the stars, we all join together and remember the remarkable time we were all beside fires and under these same stars in Africa.  We reminisce and recount moments of animal encounters and laugh when we remember the monkeys scampering off with a tidbit from the breakfast buffet. Ashworth created this memory for us.  One that will live a lifetime.
We will always remember our bold and exciting adventure and fondly remember those landscapes, those waters, those animals and those darling guides who lead us across the Botswana plains and our Trip of a Lifetime.
Botswana Safari – Daily Itinerary
Day 1 – Fly from London to Johannesburg
Day 2 – Fly from Johannesburg to Victoria Falls, Victoria Falls Safari Lodge
Day 3 – Victoria Falls (other activities: Elephant Ride, Lion Encounter)
Day 4 – Chobe Safari Lodge
Day 5 -  Chobe Game Reserve
Day 6 – Fly to Okavango Delta – Pom Pom Camp
Day 7 – Okavango Delta
Day 8 – Fly to Johannesburg
Day 9 – Fly to London
This is the second time a guest of Ashworth Africa has sent a trip report to Authentic Luxury Travel. Have you also read this one?
Happy travels,