Best DFW airport hotel? That's easy. The beautiful Grand Hyatt Dallas Fort Worth Airport is conveniently located in Terminal D – just steps from a TSA security checkpoint – and offers great amenities.
My husband Richard and I stayed here just before Christmas when we were en route to Cozumel, Mexico. We had no choice about the stopover because the first American Airlines flight out of San Diego arrived too late to connect with the daily DFW – Cozumel flight. But, in fact, I was quite happy to spend the night here because it gave me a chance to get together with some favorite family members who live in the Greater Dallas area.
Getting to the best DFW airport hotel
Our SAN flight arrived at Terminal C, and while Richard was waiting at the luggage-go-round, I called the hotel for directions. While I waited on hold, I spotted a "Grand Hyatt" Terminal Link bus at the curb. As soon as he had rounded up our belongings, we jumped on the bus and were dropped off at Terminal D (the international terminal). The Hyatt curbside porter was straight out of central casting: "Welcome to Texas y'all."
A room with a view at the best DFW airport hotel
You already know that I'm a huge fan of airport hotels because they offer the ultimate luxury: comfort and convenience. In the past I've sung the praises of the Fairmont Vancouver Airport Hotel and others.
I know this choice of a name-brand property flies in the face of my mantra about staying in locally-owned and personally hosted places, but those types of lodging don't usually exist near international airports. The Grand Hyatt gave me peace of mind, allowed me to sleep a bit later, and I loved our big picture windows overlooking the runway.
The 4-star Grand Hyatt DFW also has a heated rooftop pool with a tarmac view, a well-equipped fitness center, and a full-service spa. Even more remarkable was the incredibly friendly staff. When we checked in, I mentioned waiting on hold and the receptionist was so apologetic I was almost sorry I had mentioned it.
To "make up for the inconvenience" (really?) she offered to buy our dinner – and since we already had other plans, she insisted on breakfast. And who was I to refuse?
Great Dallas restaurant insider tip
My savvy nephew James chose Winewood Grill in nearby Grapevine for our family gathering. We all loved our meals and appreciated the attentive service. (I think our waiter has a future in stand-up comedy.)
Sis and I devoured grilled Scottish salmon and perfectly-cooked asparagus. We also shared a side of the most amazing mac n'cheese made with apple-wood smoked bacon and creamy smoked Gouda sauce. Richard enjoyed ahi tuna encrusted with black and white sesame seeds, seared rare, served sliced over an Asian infused orzo pasta and drizzled with a sweet soy and bell pepper reduction.
More seriously-delicious flavors arrived with our Grand Hyatt room service breakfast in the morning – including Richard's flatbread topped with scrambled eggs, sausage, tomato, and mushrooms.
And the best part? After checking out of the hotel, we were only steps from the check-in counter for our flight to Cozumel.
You'll get the best rate at the best DFW airport hotel on Booking.com
Enjoy y'all…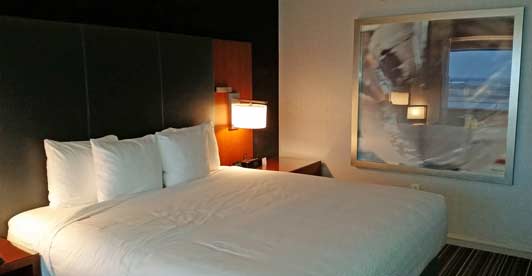 Category: Hotels, USA Southwest