Paris shopping is a subject near and dear to the heart of Pascale Heuzé, who lives in  Vincennes – a community in the eastern suburbs of the city. I first introduced you to this lovely lady when I wrote about learning vacations a while back.  More recently, she wrote about Vincennes and why you might want to make her part of town your home base. In this guest post, she shares her insider advice on Paris shopping.
"I don't know if you are like me, but when I visit a new country or a new town, I really enjoy to bring back a small souvenir that will let me remember the time I spent there. I like most of all to buy something which will remind me of the sweet time I enjoyed in this place – a clin d'oeil. I like things for my home, something specific for me and not too big and heavy because of the airline weight restrictions.
Paris shopping – not made in China
Bien sûr you can buy a "made in China" Tour Eiffel everywhere in Paris, but I really think that the best thing to do is to look for something authentic. During my guided tours of Paris I like to show some boutiques where locals go to buy gifts for friends or relatives living abroad. When we do this kind of Paris shopping we look for something "original" to let them remain with us and Paris in their daily expat life.
Where to go for Paris shopping
Here is my selection of boutiques where you can find some gifts to bring back with you, things that could carry the côté français to your home:
Fragonard. Maybe you already know the name of this famous perfume maker from the Nice region, but have you already visited the Perfume Museum in Paris? It's in rue Scribe near Opéra Garnier and they give free tours daily. The perfume museum occupies a very lovely Napoleon III townhouse built in 1860 complete with period decor. Here you can learn the history of perfume making and choose a scent to remind you of your days in Paris.
Of course, Paris shopping also includes boutiques that offer a wide range of gift ideas. Look at this lovely cushion –
Le Jacquard Français, another French manufacturer with many boutiques in Paris, offers lots of colors for your kitchen – like these cloths.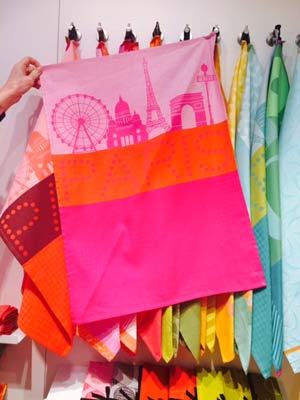 If you are more interested in Paris shopping for French table decorations, you should go to the boutique Maison de Famille. Look for many coffee cups, petits déjeuners (French breakfast bowls) and table towels in the style bistrot. You can easily combine these with your kitchen interior, as I do for my countryside cottage. There are three Maison de Famille locations in Paris: 10 Place de la Madeleine, 29 rue Saint Sulpice, and 90 Avenue Paul Doumer.
Paris shopping for men
I'm not sure these home accessories could be of interest if you are looking for a gift for a man. A better idea might be one of the great books about France and/or Paris. For instance, Le Style Français about French clichés. You can find this book in either French or in English at the famous bookshop Assouline.
All these boutiques are situated in the 6th Arrondissement, at St Germain, but some of them have more than one Parisian address (visit their website to find out).
Please enjoy your Paris shopping.
Pascale
Pascale Heuzé is a French language coach and tutor in Paris. She also offers private custom guided tours of Paris. Contact her through Paris Version à la Française