Authentic Tuscany…Before I read this guest post, I thought exploring Tuscany was, by definition, a multi-day event. However, I now realize I thought that because I've always driven around on my own and not really known where to go.
In contrast, the author of this post toured Tuscany with two very connected locals. They knew just where to go and who to see and what to order. The result: authentic Tuscany in a day. Read on…
My authentic Tuscany experience
"I want to share a special experience I had recently in one of the most stunning places on earth: Italy (of course), but more specifically, the Chianti Classico region of Tuscany. The serendipitous connection started on Instagram and resulted in one of the most satisfying travel adventures of my life.
During the planning stages of my trip to Italy last May, I connected with Arianna on IG. She owns and operates KM Zero Tours with her husband Alessio. I researched their website – and fell in love with their vision of "slow" tourism. This travel style includes connecting with local residents, food producers, and artisans and learning about their customs, their land, their gastronomy, and their handicrafts.
Taking into consideration that I had only one day in Chianti Classico region (which I highly recommend you do not do – but, alas, for me one day was absolutely better than nothing), Arianna put together a full day of immersion in the food, wine, and culture of this area for an authentic Tuscany experience.
Arianna and Alessio picked me up at Santa Maria Novella train station. As we sped away from busy Florence, I began absorbing the earthly beauty of the region: green rolling hills painted with vineyards and olive groves as far as the eye can see. We also saw rows of majestic cypress trees leading to ancient stone homes where people live happily ever after – just like in an Italian fairytale.
 A walk to remember
Our first stop was a leisurely walk in the historic walled village of Montefioralle, recognized as one of the most beautiful hamlets in Italy. Set on top of a hill offering impressive views of the Tuscan countryside, Montefioralle is the quintessential picturesque Italian village.
More authentic Tuscany – my lesson in slow cooking
In Montefioralle, Arianna introduced me to chef Stefania, who runs Pasta al Pesto, a cooking school in a genuine Tuscan home. Because I have a passion for cooking, I felt giddy with excitement when I entered her warm and inviting kitchen.
Chef Stefania, Arianna, and I started talking about food, the sources of the ingredients, and about tradition. One of the dishes I was about to learn was handed down to chef Stefania from her grandmother. I felt honored.
The menu: Pollo al Finocchio (chicken with white wine and fennel seeds); Gnocchi (potato pasta) made simply with a light lemon-asparagus sauce; and Stefania's decadent chocolate flourless cake. Imagine we three girls cooking, talking, and laughing. It was all good.
Chef Stefania had set a gorgeous table. Honestly, I felt like I was in a Tuscan dream. The gnocchi melted in my mouth; the chicken was flavorful and perfectly cooked. And the chocolate cake… to die for. I washed it all down with the most delicious red wine from the region. The meal was outstanding – and the company, even better.
Wild boar & a cave full of cheese
After our amazing lunch, we headed for the renowned village of Greve in Chianti. We walked through its lovely square to visit a famous local butcher called "Falorni." Here Alessio and Arianna showed me different Tuscan meat specialties, like wild boar and "cinta senese," (black pigs with a white "belt" around their bellies). We also toured the cave below the building, where the specialty cheese is stored. I could have spent the day here, but we needed to keep moving.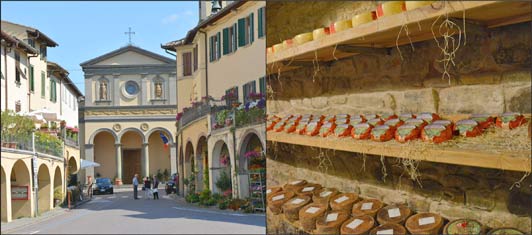 Little goats and cheese making
Next, we stopped at Podere le Fornaci, an organic goat cheese producer, where guests can learn how to make cheese and meet the little goats that live on the farm. After wandering around, Michele, the cheese maker, packaged some delicious cheese which Arianna and Alessio would be later serving to their house guests. That's a classic example of authentic Tuscany farm-to-table food.
Casa Montrogoli – paradise in authentic Tuscany
We'd had a full day by now, but I felt energized by the breathtaking surroundings and learning about the Chianti Classico region and its people from my gracious hosts. This did not feel like a tour at all. It felt like I was hanging out with friends.
Arianna and Alessio live in the village Mercatale in Val di Pesa where Arianna owns and runs a stunning stone house, Casa Montrogoli, which is available for rent. The "casa colonica" dates back to the thirteenth century. It has been lovingly and respectfully restored by her father, an expert Tuscan architect.
The last supper
My last memorable meal in Italy was with Arianna and Alessio. But it will not be my last supper with them. Before saying our goodbyes, we went to "Vinile," a restaurant owned by two young and passionate friends in the area, Mattia and Niccolò. Their dream was to create a place where people could come together for a good meal in a relaxed atmosphere. It is a simple locale with rustic tables and chairs on the patio and candles for lightning.
Oh, and the food… You'll only be served organic and "km zero" ingredients. (KM zero stands for "kilometer zero" and it refers to making the conscious choice to consume food as close to the source as possible).
The dishes Arianna and Alessio ordered were uncomplicated and out of this world. We shared a carafe or two of local red wine, and as the sun started descending, I savored every bit of this moment. Incidentally, this was a particularly special place, as this is where Arianna and Alessio came up with the name of their company, KM Zero Tours.
I'd like to thank Arianna, Alessio, and Stefania for their hospitality and for sharing their passion for their culture. I've received no gifts or compensation for writing this post. These are my honest opinions and they come from the heart.
If you'd like to read more about my other experiences around the world, I invite you to check out my travel blog: TravelwithG.com.
Cheers,
G.
Category: Italy