La Jolla Cove is easily the most recognized spot in my hometown – and for good reason. The lovely little beach is a mere dollop compared to the long stretches of sand in the rest of San Diego. And – because it's sheltered by low sandstone cliffs – La Jolla Cove feels cozy.
Snorkelers and scuba divers love La Jolla Cove because it's part of the La Jolla Underwater Ecological Reserve and marine life abounds. Above water, you'll see seals and sea lions sunning themselves on warm rocks and a plethora of pelicans soaring overhead.
It's magical. It really is, but I'd kinda forgotten that until I walked around it this morning. (This, by the way, is an example of why I take issue with "authentic travel" being referred to as "living like a local." Locals rarely have time to thoroughly enjoy their own communities.)
Pantai Inn near La Jolla Cove
A short distance south of the Cove, I noticed the attractive landscaping around the Pantai Inn and stopped in to see what other improvements had been made. I reviewed the Pantai when it first opened in late 2011 and liked it – a lot. Today, I learned that the 7 suite property has grown to 30 suites and several charming shared spaces.
All of the Pantai Inn accommodations are in a cluster of cottages, bungalows, and studios that were built between 1900 and 1930. Historical significance kept the property from being razed. Today, some buildings have brick exteriors and others are shingled, but it all flows together. It even works with the owner's chosen Balinese-inspired décor.
The view!
Here's the best part. At least 23 of the suites have full or partial ocean views. Admittedly, Coast Boulevard comes between the inn and the ocean, but that's a small sacrifice considering that 23 suites come with full kitchens and another seven have a mini-fridge and microwave. Some also come with fireplaces. Unit sizes range from studios up to 3-bedroom, 2-bath units, and includes five 2-bedroom suites.
More amenities
The Pantai Inn is a half block from the luxurious La Valencia Hotel and equidistant from the La Jolla Cove and the seal colony at the Children's Pool. How close is the hotel to the Children's pool? Check out the photo below.
The hotel does not have a restaurant, but is within a block or two of dozens of dining and shopping options. No pool either – except the great big one across the street.
If you can tear yourself away from your suite, here are some of my favorite things to do in La Jolla.
Room rates are lower mid-week and always include breakfast, parking, and wi-fi. Book well ahead for July and August and whenever there's a special event.
Click here to get the best rate at Pantai Inn.
How much do I like Pantai Inn? I'm sitting here trying to justify paying for a hotel suite only a mile from our house.
Cheers,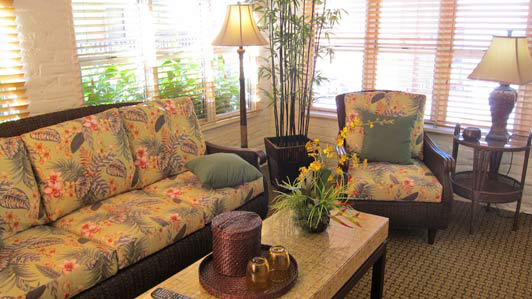 Category: Southern California