Lava Lava Beach Club. Isn't that a great name? And here's the best part: unlike many cool monikers that aren't as great as they sound – this place is even better. Located right on the beach on the Kona side of the Big Island of Hawaii, the Lava Lava Beach club is both a great place to eat and a unique place to stay.
We first fell in love with the restaurant a few years ago when we were staying nearby in a condo within the Waikoloa Beach Resort community. Each day my husband and I walked past the Lava Lava Beach Club on our way to our favorite spot on "A Bay" – one of the best beaches on the island. (A is short for Anaeho'omalu, but – understandably – I've never heard anyone call it that.) We also ate dinner at Lava Lava Beach Club and loved the über relaxed Hawaiian ambience and live music.
Return to Lava Lava Beach Club
Fast forward to summer 2015. We returned to the Big Island and headed straight to the Lava Lava Beach Club for lunch. All the elements that shouldn't change have stayed the same. Friendly welcome from the staff? Check. Amazing beach view? Yep. Cool beach vibe? Absolutely.
"So what's over there" I asked our waiter Jesse as he brought me a skillet of sizzling shrimp.
"Oh, haven't you seen our beach cottages yet?"
No, I hadn't. But I did – just as soon as I'd eaten every last morsel of my meal.
The best Big Island beach cottages
Lava Lava Beach Club manager Brian Whitlock walked us through the four beachfront cottages, and patiently stood by as I oohed and aahed. I love the Tommy-Bahama-meets-Pottery-Barn décor, the spacious landscaped outdoor showers, and the kitchenettes that come fully loaded with everything you need to prepare a light meal.
As a fan of the restaurant, I wasn't aware that the Lava Lava Beach Club property actually includes 10 acres of prime beachfront. The cottages take full advantage of this by including king beds on raised platforms (for the best view) and covered front decks with teak furniture.
The contrast between this authentic lodging and the big hotels in Waikoloa (Marriott and Hilton) and elsewhere on the South Kohala Coast is dramatic. The only place in this area that has ever offered an authentic option was Kona Village Resort, which was wiped out in the 2011 Tsunami.
Lava Lava Beach Club amenities
Cottage guests get the same friendly service as restaurant patrons. Platters of fresh fruit are provided for breakfast, and adult beverages and pupus are delivered at cocktail time. Loaner bikes and stand-up paddle boards are available free of charge, and honu – Hawaiian sea turtles – are happy to pose for pictures on the beach.
Because there's live music in the restaurant until 10pm nightly, early sleepers usually opt for the cottage furthest away. This one – Hale Wa'a – also has the biggest deck, offers the most privacy, and has a cool tree in the outdoor shower garden. The specs on all four cottages are on the website.
Hawaiian specialties
In addition to the excellent sizzling shrimp, the Lava Lava Beach Club is famous for their pineapple fried rice, which is actually served in a pineapple, and the Hukilau Chowder, made with fresh ahi, bacon, clams, and potato.
If you like connecting with the local culture, I think you'll enjoy eating and staying at Lava Lava Beach Club. This place has more than a cool moniker. It's the only place on the Big Island where you can easily step from bed to beach.
Aloha…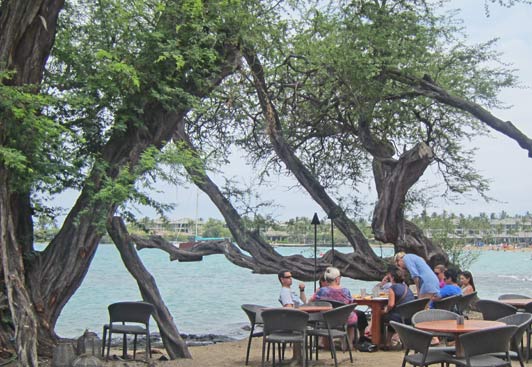 Category: Hawaii