My favorite Santa Barbara hotel? That's easy. Belmond El Encanto won my heart with gracious suites in historic cottages, beautiful gardens, and a panoramic ocean view.
Spread over seven acres, the hotel feels more residential than commercial. This isn't surprising, since the bungalows here started out as lodging for students and faculty when a state teacher's college was established on the site in 1909. When the school was relocated, the housing became private homes and later a small hotel where movie stars sought privacy in the 1930s and '40s
Authentic luxury in Santa Barbara
Belmond El Encanto is easily the most beautiful Santa Barbara hotel. In addition to 92 luxury suites, the property includes a vanishing-edge salt water swimming pool, a state-of-the-art spa, a  fitness studio, and several charming dining options. Every building on the property is original except the shared areas – a chic little bar, dining room, lovely covered verandah, and open terrace.
I love the history of this beautiful Santa Barbara hotel and also the fact that it sits on a hill in a neighborhood of older homes. While we were there, I noticed Santa Barbara residents dropping in to celebrate special occasions, watch the sunset, and relax in the spa…as they might do at a local country club.
Luxury Santa Barbara hotel with a view
The property's 180-degree ocean view includes the five islands that comprise Channel Islands National Park. These lie five miles offshore and are visible on clear days. The inland view takes in a row of stately palm trees along the coast, a glimpse of Spanish-style buildings in the downtown area, and the San Rafael Mountains in the distance.
Our spacious bungalow, number 15, with a fireplace and sitting area, felt very welcoming. I loved the heated marble floor in the bathroom, luxe bed and bath linens, and the mellow colors.
Fun and good food at El Encanto
We didn't have time to play tennis or take in a polo match (now through October 4), but we did have fun floating in the beautiful salt water pool. Guest services also include complimentary use of electric bikes and courtesy car service to area attractions.
In addition to luxury suites and lush gardens, the resort offers carefully-crafted meals that include herbs grown on the property and cheese made from the milk of Ellie, the resort's cow. Because of the flavors and the setting, we lingered over drinks and meals on the sheltered porch and under the stars.
There's lots to do in this city, but when you're staying at the most wonderful Santa Barbara hotel, it's hard to tear yourself away. I did enjoy Tara Jones' photography food and wine tour, and it was fun to walk around the harbor area and out on the wharf, but my best memories from this trip are of relaxing in our gracious lodging and pondering the ocean panorama.
Enjoy,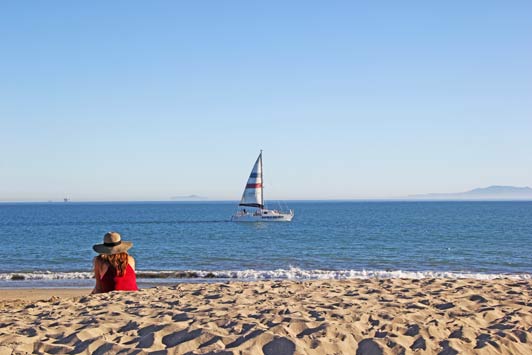 Category: Central California