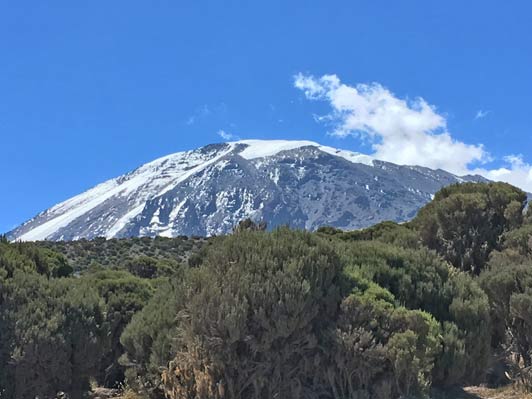 Kilimanjaro: I love reading well written accounts of other travelers' adventures – and that's just what this is. Louis Amoroso is a popular life coach who uses travel as a medium to lead successful professionals to even higher levels of success in their careers and in their personal lives.
Louis recently "scouted" Mount Kilimanjaro in Tanzania as a potential new destination for his small group journeys. His recounting of the experience is fascinating, and I'm grateful that he chose to share it with Authentic Luxury Travel.
This is a two-part article. Here he describes the climb to the Base Camp on Mount Kilimanjaro – how the trip unfolded externally. Part 2 (coming soon) will describe the midnight summit hike to the top and examine the internal journey of personal transformation.
Getting to Mount Kilimanjaro, Tanzania
Mount Kilimanjaro is a journey of a lifetime found on the bucket list of many travelers. I had the opportunity in September 2016 to conquer 'Kili', the tallest point in Africa and highest freestanding peak in the world at 19,341 feet (5,895 meters). This was a scouting trip for me, as I lead small groups on transformational journeys around the world. These are as much an exploration of the physical location as people's purpose and raison d'etre. Trust me, Mount Kilimanjaro challenges on all levels. It was everything I had hoped for and more.
Most trekkers fly into the almost quaint Kilimanjaro Airport (JRO), nestled between the cities of Moshi and Arusha. One can fly directly into JRO from African cities such as Nairobi and Dar es Salaam, but the only regularly scheduled direct flights from outside Africa to JRO are from Europe (Amsterdam and Frankfurt). It is common to use Moshi and Arusha as beachheads not only to climb Kilimanjaro, but also for safaris to the Serengeti or Ngorongoro Crater.
At JRO, I was met by Jenny, an outgoing employee of Kilimanjaro Brothers. I chose this tour operator based on their positive TripAdvisor reviews and the fact that they are locally owned. I also really appreciated their prompt responses to multiple email inquiries. Jenny immediately went above and beyond, taking me to an electronics store to buy an iPhone adapter. (My phone was my sole source of capturing photos on the hike.)
Meeting the Kilimanjaro team
Our intrepid group of nine – three from the U.S. and six from Australia – gathered for the night at the Honey Badger Lodge, just outside of Moshi. Owners Joey and Jenny Renju and their staff made us feel right at home.
The hotel is an oasis a short ride outside the dusty city. During the day, vervet monkeys scrambled across thatched roofs and took turns sipping water from a microscopic hole in a garden hose. Our bedrooms were comfortable, but we all chose to hang out around inviting blue-tiled pool.
The next morning, our driver flanked the western edge of the mountain as we headed to Lemosho Gate to start the journey. Park permits bring in over $50 million per year to the Tanzanian government, which had attracted corruption and financial mismanagement. Due to a new presidential decree, climbers now must pay park fees in person.
The Kilimanjaro hike
There are a number of routes to the top of Kilimanjaro. The most popular routes are Machame and Marunga, typically 4-5 days long with rapid ascents to the peak. I chose an 8-day trek on the increasingly popular, though less crowded, Lemosho trail to allow proper time for acclimatization to lower the chance of altitude sickness. Lemosho also traverses several different ecosystems, from montane forest to moorland to alpine desert. The most popular times of the year for climbing coincide with the driest months, either January and February, or August through October.
Daily hikes ranged from 3-6 hours and varied in elevation gain and drop. The Lemosho Trail is designed to minimize the effects of altitude by embracing the phrase "hike high, sleep low." Several hikers took Diamox as a preventative measure; a few (myself included) did not.
The first two days we traversed balmy jungle until emerging above the treeline, where we were treated to spectacular views of lush, verdant hills. The trails were well marked, and water breaks occurred frequently. Guides were forever encouraging hikers to proceed "pole, pole," (poh-lay, poh-lay) which means "slowly, slowly." Our group ranged in age from 23 to 71, and the pace was never too hurried.
The nuts and bolts of climbing Kili
There are no lodges on the trail to the summit, so everything must be carried. For our party of nine people, we had 31 porters, 4 guides, and a cook – a small army. While the clients carried day packs of 5-7 kg with water and cameras, the porters lugged everything else, including our large packs, tents, food and condiments, cooking gear, a mess tent, kerosene, and our very own toilet with a hand pump flush! The porters were the unsung heroes of the trek. Each porter is mandated to carry a maximum of 20 kg, though some tour operators treat porters more ethically than others.
Delicious food was abundant throughout the trek, and we enjoyed our meals in the comfort of a dining tent replete with folding chairs carried by porters.
Yihaya, our cook, worked miracles in his two-man cooking tent with a couple of gas burners. Fresh fruit, omelets, and porridge greeted us in the morning. Lunch included a daily vegetable soup and either rice, pasta, or potatoes. While a hearty base of carbohydrates isn't my norm, on the trail we burned these calories as fast as we took them in. There was always a protein, typically chicken. Dinner was often more of the same: a carbohydrate base with a stew-like topping. The nourishing meals were a highlight and we couldn't have done the Kilimanjaro hike without the splendid cooking of Yahiya and his team.
In general, the accommodations were more than adequate. I had a two-person tent to myself, and most of the people who were paired off shared a three-person tent. In the morning, a porter would wake us up with hot tea or coffee. Exactly 30 minutes later, we'd be asked if we wanted "hot water for wash?" This was a chance to freshen up before the dust of the day would reapply itself. One other nicety to mention was at night, the kitchen staff would boil an extra pot of hot water that we poured into our water bottles. I would thrust my piping hot Nalgene bottle to the bottom of my sleeping bag, which ensured warm toes throughout the night.
On Day 4, our morning involved a fair bit of scrambling up rocks as we navigated our way up the imposing Barranco Wall. The payoff at the top was a sea of fluffy clouds that stretched across the horizon below us. A short but rigorous walk on Day 5 brought us to Base Camp, where we would set off for the summit at midnight.
Look for details of the Kilimanjaro summit ascent – as well as the internal journey of personal transformation - in part 2 of this article, coming soon.
Louis Amoroso is a professional coach who uses travel as a medium to accelerate transformation, helping successful people transition to higher levels of success in their professional and personal lives. He can be reached at www.TravelLight.world or louis.amoroso@gmail.com  Louis has an MBA from Duke University and a Masters in Spiritual Psychology from the University of Santa Monica. He splits time between Santa Monica and Chicago. 
Category: Tanzania