Driving in India - We've been on the road in Rajasthan for over two weeks, during which I've patted myself on the back for the things I remembered to pack (layers of clothing and hiking poles, which made it possible to enjoy our days of walking in the foothills of the Himalayas) and kicked myself for the items I forgot.
The most important things I left behind are my Sea Bands – the bands that press on the acupressure points in my wrists that control nausea – when driving in India or elsewhere.
No, unlike Kate Middleton, I'm not pregnant (you'd read about that in the Journal of the American Medical Association or The National Enquirer), but motion sickness is a potential problem for anyone driving in India.
Of course, I mean riding in a car, not actually driving in India – because any foreigner who attempted that feat would quickly have his death wish fulfilled.
This is my third trip to India and, as with the others, my husband and I hired a driver to take us from place to place. In the past, I've done this through the government tourist office, but after a harrowing week in Kerala five years ago (where I survived speed and twisty roads by munching my way through packages of India's version of Ritz crackers) I turned to the Internet for advice.
Driving in India with Manjeet Singh
Voila! Manjeet Singh – experienced driver based in Delhi – appeared on Facebook. Now before you think "my God, she's crazy," let me explain that we exchanged messages for almost six months, and I was impressed with his answers to my questions. I also read his LinkedIn profile and figured he'd be nuts to rip off a travel writer (the pen being mightier than the sword and all that).
Manjeet met us at the airport when we arrived, provided transport within Delhi, took us to the train that was the first leg of our journey to the foothills, and collected us at the railway station when we returned from that six-day excursion.
He's a quiet, gentle bear of a man who knows Delhi and Rajasthan like the back of his hand and takes his job very seriously. After Delhi, we spent two days in Rathambhore National Park, two days in Bundi, and we're now ensconced like royalty at the Lake Palace Hotel in Udaipur.
Manjeet has proven to be a street smart driver and an amiable companion. He's stopped at several memorable sights along the way that we would otherwise have missed. Just as important: the combination of mostly straight roads and his steady driving has eliminated the need for Sea Bands.
Instead of experiencing motion sickness, my husband and I have been wowed by what we've seen on the highway:
• Families of five balanced precariously on a motorbike
• Cars parked in the middle of a narrow road
• A half dozen cows sauntering across four lanes of traffic
• Camels laden with huge loads that spilled over their sides like giant muffin tops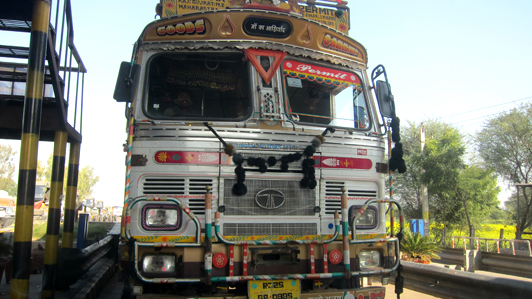 • Big trucks decked out with tassels and glitter blaring Bollywood music like a cheesy nightclub
• Tractors pulling trailers moving at a quarter of the speed of other vehicles who don't move over so other cars can pass
• Speed bumps that pop up without warning in the middle of the highway
• A kilometer-long Gypsy camel train that jingled and jangled down the road without a care in the world
• Tiny taxi buses with four passengers stuffed onto every seat and more standing and hanging off the back
You're in good hands with Manjeet
Manjeet manages this chaos with grace, a horn, and good brakes.
For my part – tonic water and Tums are my new best friends.
You can contact Manjeet Singh via Facebook, LinkedIn, cell phone (91-9910570527), or email manjeet_singh_tours@hotmail.com.
Enjoy the ride!
Delhi belly? Here's my advice for dealing with that common malady.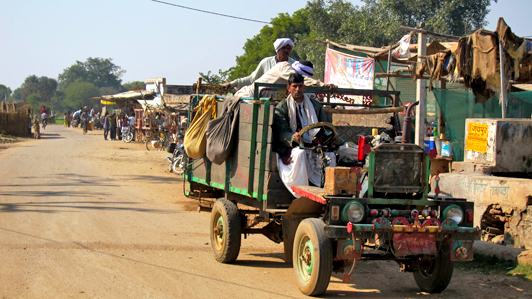 Category: India